GMC Parts to Upgrade Before Winter Arrives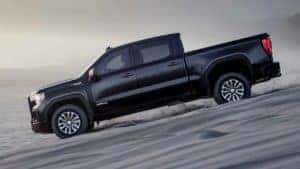 GMC parts are designed to handle whatever the road throws your way. Here at Serra Buick GMC Champaign, we make it easy to match drivers with the best parts for various driving conditions, so you'll be safe and protected every time you hit the road.
No matter what season it is, you'll be able to find exactly what you need at our dealership. Start preparing your vehicle for winter right here at Serra Buick GMC Champaign.   
Best GMC Parts for Winter Driving
All of our new and pre-owned GMC vehicles at our dealership are equipped with the latest safety and security features. However, a little service and seasonal preparation can go a long way to ensuring your safety on the road.
Here are the parts you'll want to consider upgrading before winter arrives: 
Headlights and fog lights:

 Not only does it get dark earlier in the winter, but you may face inclement weather that reduces visibility. Well-maintained and upgraded headlights and fog lights can provide maximum visibility on every ride. 

 

Windshield wipers:

 It's essential that you have a clear windshield and a full view of the road ahead. A new set of windshield wipers and an inspected and upgraded windshield system can really help this winter.

Brakes:

 It's a good idea to get 

brake inspections

on a regular basis

, but especially if you know you're going to be driving in icy or snowy conditions. Replacing your brake pads and checking for other signs of wear can give you more control on the road.

Tires:

 One of the best ways to keep your GMC vehicle safe all winter long is with new winter tires. These tires are designed for inclement road conditions and cold weather, so you know you can rely on them on chilly days. 

 
Learn more about how to prepare your GMC vehicle for winter when you visit Serra Buick GMC Champaign. Get the seasonal service you need today!